Género:
Power metal/Speed Metal
Componentes:
Hansi Kürsch-bajo y voz
André Olbrich - guitarra
Marcus Siepen - guitarra
Frederik Ehmke - bateria
Sello discográfico:
Nuclear Blast,Virgin
Ciudad de origen:
Krefeld(Alemania)
Ciudad actual:
Krefeld(Alemania)
Blind Guardian es un grupo musical alemán de heavy metal (speed, power y progresivo)originado a mediados de los años 1980. Este grupo ha recibido la influencia de bandas como Helloween, Uriah Heep y Queen entre otras citadas por el grupo en diversas entrevistas.
El primer disco oficial de la banda lleva el nombre de Battalions Of Fear, y sale a la venta a comienzos de 1988. Musicalmente hablando es considerado como speed metal.
En 1993 sale a la venta el primer álbum en vivo del grupo, Tokyo Tales, grabado durante su gira por Japón, que hace un repaso a los mejores temas del grupo. Su quinto álbum se lanza en 1995 bajo el título de Imaginations From The Other Side.
En 1998, Blind Guardian saca un álbum dedicado por entero a El Silmarillion, obra de J. R. R. Tolkien. El título del disco es Nightfall in Middle-Earth y su correspondiente single lleva el título de una de las canciones del álbum, Mirror Mirror.Esto hace que el rumbo de la banda tome un ritmo mas melódico.
Después de un largo descanso, en 2002 sale el álbum que llevaría como nombre A Night at the Opera. Junto al disco sale el sencillo And Then There Was Silence que incluía el tema homónimo de 14 minutos de duración.
En 2005 el batería de la banda, Thomen Stauch abandona la formación por diversas discrepancias respecto a como deberían continuar su trabajo, formando el grupo Savage Circus. A finales de año es sustituido por Frederik Ehmke, un batería nacido en Malsch (Alemania), prácticamente desconocido hasta entonces.
Su nuevo álbum, titulado At the Edge of Time ha sido publicado el 31 de julio de 2010.
Lucifer's Heritage - Symphonies of DoomLanzamiento:
1986
01 - 1985 - Symphonies Of Doom – M
01 - Halloween
02 - Brian
03 - Dead Of The Night
04 - Symphonies Of Doom
05 - Lucifer's Heritage
02 - 1987 - Battalions Of Fear – M
01 - Majesty
02 - Trial By The Archon
03 - Battalions Of Fear
04 - Gandalf's Rebirth
05 - Run For The Night
Battalions Of FearLanzamiento:
1988
01. Majesty
02. Guardian Of The Blind
03. Trial By The Archon
04. Wizard's Crown
05. Run For The Night
06. The Martyr
07. Battalions Of Fear
08. By The Gates Of Moria (Instrumental)
09. Gandalf's Rebirth (bonus)
Follow the blindLanzamiento:
1989
01. Inquisition
02. Banish from Sanctuary
03. Damned for All Time
04. Follow the Blind
05. Hall of the King
06. Fast to Madness
07. Beyond the Ice
08. Valhalla
09. Don't Break the Circle (bonus)
10. Barbara Ann (bonus)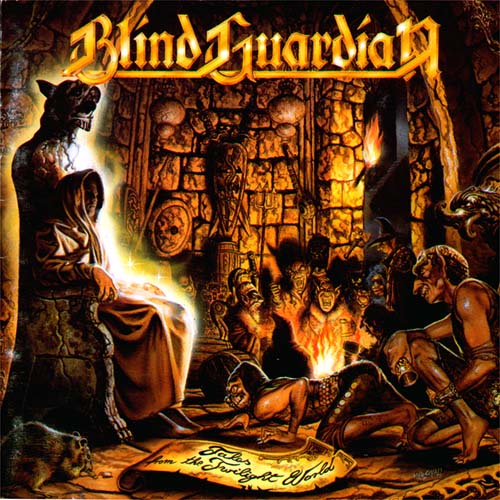 Tales from the twilight worldLanzamiento:
1990
01-Traveler in Time
02-Welcome to Dying
03-Weird Dreams
04-Lord of the Rings
05-Goodbye My Friend
06-Lost in the Twilight Hall
07-Tommyknockers
08-Altair 4
09-The Last Candle
10-Run for the Night(bonus, en vivo)
Somewhere Far BeyondLanzamiento:
1992
01.- Time What is Time
02.- Journey Through the Dark
03.- Black Chamber
04.- Theatre of Pain
05.- The Quest for Tanelorn
06.- Ashes to Ashes
07.- The Bard's Song: (In the Forest)
08.- The Bard's Song: (The Hobbit)
09.- The Piper's Calling
10.- Somewhere Far Beyond
11.- Spread Your Wings
12.- Trial By Fire
13.- Theatre Of Pain Classic Version
Imaginations from the Other Side
Lanzamiento:
1995
01.- Imaginations from the Other Side
02.- I'm Alive
03.- A Past and Future Secret
04.- The Script for my Requiem
05.- Mordred's Song
06.- Born in a Mourning Hall
07.- Bright Eyes
08.- Another Holy War
09.- And the Story Ends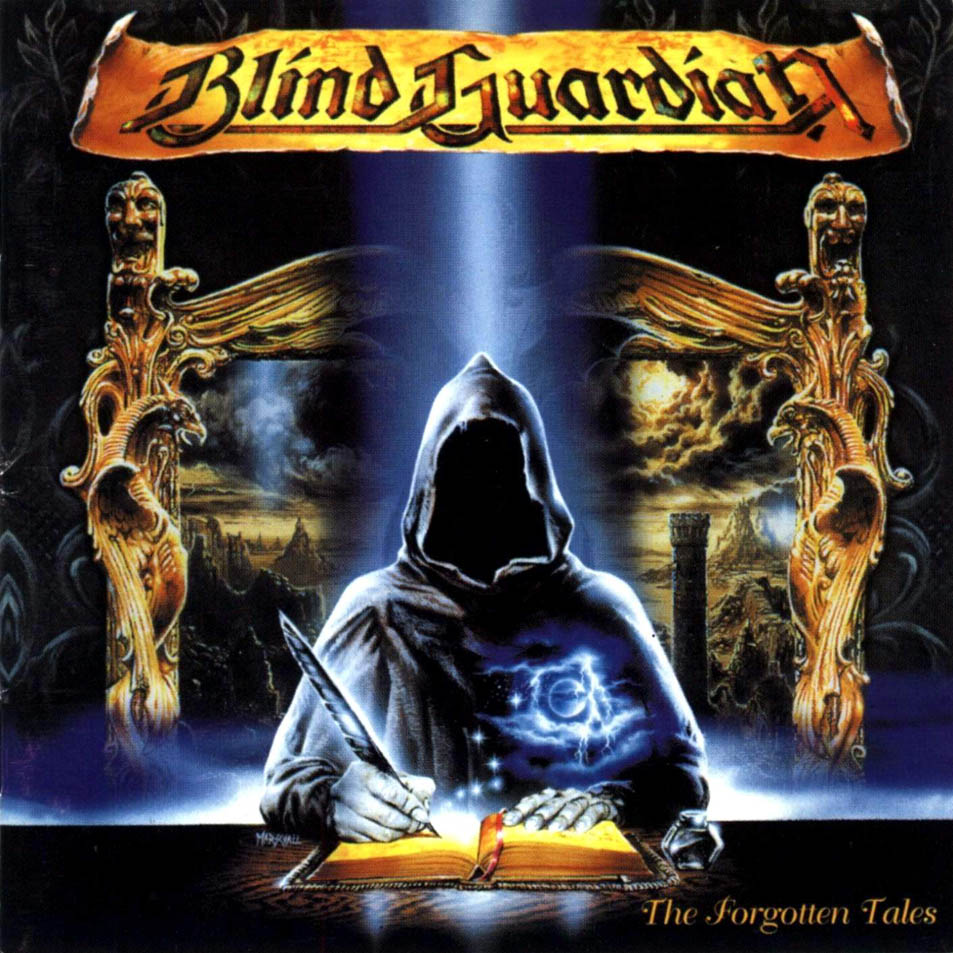 The forgotten tales
Lanzamiento:
1997
1. Mr. Sandman (versión de la canción popular escrita por Pat Ballard)
2. Surfin' USA (versión de la canción de The Beach Boys)
3. Bright Eyes (Acoustic Version)
4. Lord of the Rings (Orchestral Version)
5. The Wizard (versión de la canción de Uriah Heep)
6. Spread Your Wings(versión de la canción de Queen)
7. Mordred's Song (Acoustic Version)
8. Black Chamber (Orchestral Version)
9. The Bard's Song (Live)
10. Barbara Ann/Long Tall Sally(versión de las canciones de The Regents y Little Richard)
11. A Past and Future Secret
12. To France(versión de la canción de Mike Oldfield)
13. Theatre of Pain (Orchestral Version)
Nightfall in Middle Earth
Lanzamiento:
1998
01.-War of Wrath
02.-Into the Storm
03.-Lammoth
04.-Nightfall
05.-The Minstrel
06.-The Curse of Fëanor
07.-Captured
08.-Blood Tears
09.-Mirror Mirror
10.-Face the Truth
11.-Noldor (Dead Winter Reigns)
12.-Battle of Sudden Flame
13.-Time Stands Still (At the Iron Hill)
14.-The Dark Elf
15.-Thorn
16.-The Eldar
17.-Nom the Wise
18.-When Sorrow Sang
19.-Out on the Water
20.-The Steadfast
21.-A Dark Passage
22.-Final Chapter (Thus Ends…)
A Night At The Opera
Lanzamiento:
2002
01.- Precious Jerusalem
02.- Battlefield
03.- Under the Ice
04.- Sadly Sings Destiny
05.- The Maiden and the Minstrel Knight
06.- Wait for an Answer
07.- The Soulforged
08.- Age of False Innocence
09.- Punishment Divine
10.- And then there was Silence
A Twist in the Myth
Lanzamiento
2006
01. This Will Never End 
02. Otherland 
03. Turn The Page 
04. Fly 
05. Carry The Blessed Home 
06. Another Stranger Me 
07. Straight Through The Mirror 
08. Lionheart 
09. Skalds And Shadows 
10. The Edge 
11. The New Order 
12. Dead Sound Of Misery
At The Edge Of Time
Lanzamiento:
2010
01. Sacred Worlds
02. Tanelorn
03. Road Of No Release
04. Ride Into Obsession
05. Curse My Name
06. Valkyries
07. Control The Divine
08. War Of The Thrones
09. A Voice In The Dark
10. Wheel Of Time
Estamos subiendo la discografía,en cuanto la tengamos,os daremos aviso para que la busqueis en nuestro blog.

Anime-Planet.com - anime | manga | reviews
Gracias Invitado por tus 0 mensajes leyendo las NORMAS DEL FORO
Ya disponible en nuestro blog.Se agradecen los comentarios y que compartais los discos.
No me mandeis mps pidiendo un rango ni ayuda.Cualquier duda la posteais en el foro y se os ayudara en cuanto la revisemos.

Engancha-2

Staff





Nº de mensajes

: 47


Inscripción

: 11/01/2012


Votos recibidos

: 6


Puntos totales

: 165


Medallas

:





Temas similares
---
Permisos de este foro:
No puedes
responder a temas en este foro.